Website Creators
Your Go Touring site is a standalone website running on high performance servers. Go Touring allows for a number of integration options to allowing you to add content to your existing site to drive traffic to Go Touring.
Detailed documentation and download links can be view on the Go Touring administration panel.
Integration Option
Search Tile
Go Touring has an integrated search API which allows you to create pre-defined searches URL's. These can be placed on your website and shown as images or text links, like this (or any way you want)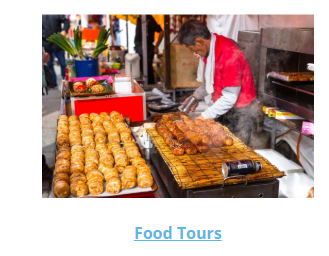 When your visitors click on the image they are taken to you Go Touring site and the results of the search are displayed. This is a great way to get content for you web site.
Search panel via WordPress Plugin
Using a simple WordPress Plugin you can include our search panel on your site. There are many styling options (our Standard style, Bootstrap or Custom) that will allow you to seamlessly integrate the search panel into your site.
Search panel via JavaScript
For those who don't use WordPress we have the same options but by inserting the JavaScript files and HTML into your pages. It has the same great styling options
(our Standard style, Bootstrap or Custom) that the WordPress plug allows. This gives the greatest flexibility as to how you want to display the search panel.